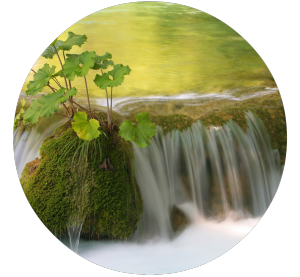 Within you, there is a space – quiet, potent, dynamic and still. Drink from those waters and be restored.
It is widely understood that negative stress is a leading cause of illness. The antidote to this lies within each one of us. While we cannot always change what happens in our lives and in the world, we CAN make choices about our internal and external responses to those happenings.
The existence of a personal and internal place of Sanctuary is both scientific fact and esoteric philosophy. There is tremendous wisdom from ancient traditions that is now supported by scientific data demonstrating the health-sustaining benefits of mindfulness, self-compassion, kindness and inner peace.
Life is enriched when we are enjoying a clear, known connection to our inner Sanctuary. Having this connection doesn't eliminate the stresses and strains of ordinary life, it does, however, enable us to get back into the flow more easily and, with practice, it will require less effort.
We need support, connection and nurturing in order to begin this process.
On Sunday, November 23, 2014, Grisel Puig-Snider of Sacred Earth Remedies and I will be facilitating Sanctuary.
We felt inspired to bring this new work to life by our own experiences of seeking and finding Sanctuary – in ourselves, in nature and in shared moments with others.
There can be a number of different paths to your own Sanctuary. In co-creating this experiential workshop, we have brought together a variety of mindful experiences through which each participant can discover and recover that personal source of restoration and renewal.
We are weaving together herbal, artistic and sacred traditions to create a tapestry of self-compassion, connection, and renewal. Here are some of the ways in which participants will connect to Sanctuary:
uniquely-designed, herbal facial steam
healing, connective movement
guided mindfulness journey
sand tray/mandala play
co-creation of art
story, music and food
We, each one, have choices. We may choose to build a resilient connection to our inner Sanctuary drawing from a number of sacred traditions or from scientifically-endorsed techniques. The most essential choice is to realize that knowing your own Sanctuary is your birthright and that exploring the diversity of ways of getting there will nourish and renew you.
Peace,
Zette
PS – While there are many different ideas about 'the soul', in this case, it is a symbol representing that still, deep, dynamic, potent place deep within.
Sanctuary, on a personal level, is where we perform the job of taking care of our soul.

Christopher Forrest McDowell,The Sanctuary Garden